DMX8021DABS
Digital Media AV Receiver with 7.0" WVGA Display, Enhanced Wireless Smartphone Connections, Bluetooth & Digital Radio DAB+.
By connecting your smartphone and DMX8021DABS wirelessly, your driving time will be more fun and convenient: Safe, Smart and Comprehensive Control with Apple CarPlay™ & Android Auto™ and the True Mirroring allows you to display and control your Android smartphone on the KENWOOD receiver screen. Furthermore enjoy the Optimal Sound Performance with 13 Band Graphic EQ and Time Alignment and to enable a smarter driving experience, this receiver features 4 camera inputs which allow for the utmost in convenience, flexibility and safety.
DAB+ tuner built-in

Made for iPod & iPhone *

2 phones full time connection

2 Zone Control

KENWOOD Remote App Ready

KENWOOD Music Mix Support

Equalizer

Digital Time Aligment (DTA)

Digital Sound Processor (DSP)

Spectrum Analyzer

FM(RDS) + AM(MW/LW) Tuner

Top Menu Customize

Built-in Bluetooth

Wifi built-in

Works with Apple CarPlay

Works Wireless with Apple CarPlay

Works with Android Auto

Works Wireless with Android Auto

Wireless Mirroring for Android

R-CAM Parking Guide Lines

OEM Wired Remote Control ready

Camera inputs
---
Key Features
7.0 "WVGA capacitive touch panel with sharp, high-contrast images, vivid colors and wide viewing angles.
Wi-Fi built-in for convenient wireless connection with a compatible smartphone.
DAB/DAB+ radio tuner for noise & interference free reception and crystal-clear digital stereo sound
Bluetooth(R) Wireless Technology for hands-free calls and music streaming. (Available functions depend on cell phone).
Supports CarPlay wirelessly and with a USB cable.
Supports Android Auto wirelessly and with a USB cable
Supports Wireless Mirroring for Android including 2-way touch control capability.
Featuring 4 camera inputs allow for the utmost in convenience, flexibility, and safety.
3 RCA high power (5.0V) preouts (front/rear/sub)
Compatible with Hi-Res Audio which provides greater sound clarity and detail than standard compressed digital audio formats.
Digital Sound Processor, Time Alignment & 13-Band EQ for optimal sound tuning enhancements.
Rear High Speed USB type-C port. Up to 3.0A Max Charge
Short body (85mm) for easy installation.
---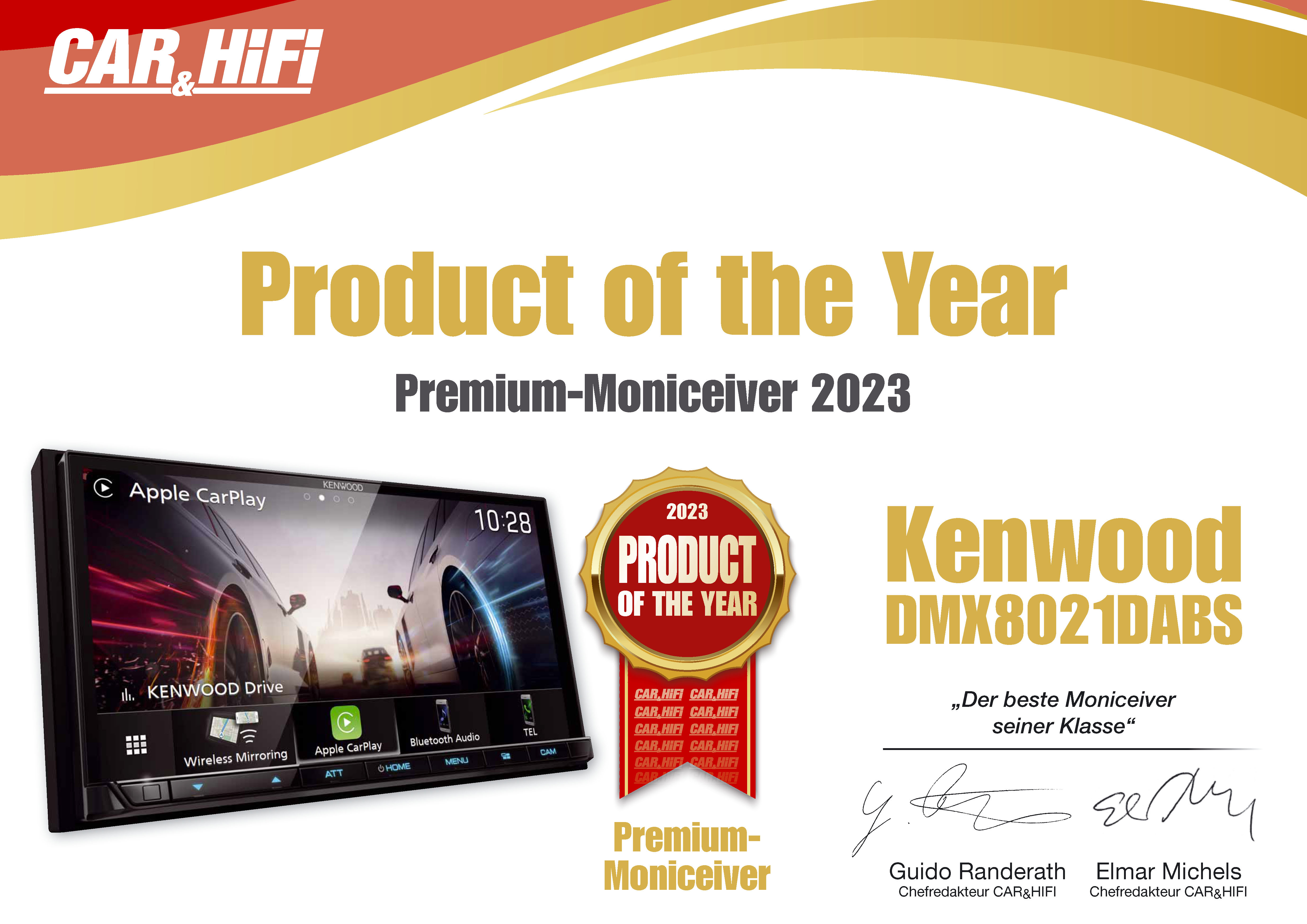 Car & HiFi test 4/2022 - Spitzenklasse

"Thanks to Bluetooth and WiFi, the KENWOOD DMX8021DABS makes wireless contact with both iPhone and Android cell phones. Car Play or Android Auto are available on the car radio as soon as you get in, even if the phone just stays in your pocket. The DMX8021DABS follows in the big footsteps of its predecessor and marks the top in its class."

Elmar Michels, Redaktion Car & HiFi

"The best Moniceiver in his class" - Car & HiFi test 4/2022

"KENWOOD's DMX-8021DABS moniceiver is a new in-house development and has everything you could wish for in the digital age.
Its predecessor DMX8020DABS already shone with exemplary, partly wireless smartphone connectivity was an immediate class leader in our tests.
With the new DMX8021DABS, KENWOOD has further optimised connectivity and ease of use..."
---
All in One The Ultimate Wired & Wireless Smartphone Integration

- Apple CarPlay Wireless.
- Apple CarPlay Wired.
- Android Auto Wireless.
- Android Auto Wired.
- Wireless Mirroring for Android

Apple CarPlay gives iPhone users an intuitive way to make calls, use Maps, listen to music and access messages with just a word or a touch. With iOS 12.0 and higher, 3rd party navigation apps like Google Maps™ are also supported. Wireless connection is available on compatible iPhones.

Android Auto is a simple way to use your Android phone in the car. The KENWOOD receivers combine an intuitive voice controlled interface with a large touch screen and superior sound quality, allowing you to enjoy features including Google Maps and more. Wireless connection is available on compatible Android Phones.

| | |
| --- | --- |
| | Wireless Mirroring for Android is a groundbreaking solution for seamlessly displaying and controlling your smartphone apps on the receivers' large screen without cables. The feature is available on compatible Android phones. Some features, applications and services are not available in every region. |
---
Digital radio DAB+

DAB+, also known as Digital Audio Broadcasting Plus, provides crystal-clear audio quality and interference-free reception. DAB+ uses the AAC+ audio codec, which allows for greater compression without loss of audio quality and is comparable with CD audio quality. It uses a more efficient coding system to transmit digital data resulting in more stations being able to broadcast on the same frequency and allows for the delivery real time data services such as such as the station name and logo, presenter, song title and album artwork.
---
Bluetooth hands-free calling and audio streaming

This KENWOOD unit comes equipped with built-in Bluetooth technology.
2-Phone Hands Free ready: make and receive calls. With a touch of a button you can switch between two phones.
Music Mix – High Quality Audio Streaming: Up to 5 Bluetooth devices can be paired to the head unit at the same time. You can enjoy audio streaming just by switching the devices among your friends and family.
The unit support Voice Command, allowing you to perform actions without touching your phone. You can initiate calls, play music or perform other tasks just by speaking voice commands and keeping your hands on the steering wheel where they belong and concentrate on the road ahead.
---
Control the Receiver from Your Smartphone with the KENWOOD Remote App S

With this smartphone application you can control most basic functions of the receiver over the Bluetooth connection of the paired phone (iPhone or Android).
---
Sound Tuning Technology

- Digital Time Alignment.
- 13-Band Graphic Equalizer.
- 3-Way X'over.

Digital Time Alignment allows you to digitally delay the closest speakers so that the sound of every speaker reaches your ears at the same time. It makes the sound move to the front top of dashboard in order to get the best stereo imaging & soundstage.

13-band Graphic Equalizer gives you the possebility to fine-tune advanced sound properties to achieve professional audio sound quality in your vehicle. It allows you to set parameters of Q factor, slope, frequency and gain at 14 points separately (Common: 9 / Front: 2 / Rear: 2 / Subwoofer: 1). With adjustments such as high and low shelving filters, more realistic sound can be delivered.

Active 3-Way X'over Mode for advanced sound system building by separating the audio signal into different frequency band, via Low Pass Filter, Band Pass Filter & High Pass Filter, and direct them to the appropriate speakers or drivers via power amplifier(s).
---
4 Camera Inputs.

To enable a smarter driving experience, this receiver features 4 camera inputs allowing the utmost in convenience, flexibility, and safety. With 4 camera inputs, you can connect a front camera, a KENWOOD dashboard camera (DRV-N520 sold separately), rear and side (blind spot) cameras. Alternatively, 4 camera inputs can support several other configurations, including the connection of 2 side cameras, a front camera, and a reverse camera. Setting of camera type and display switching between the 4 cameras can be operated easily via the receiver's large screen. AV input is assignable as 4rd camera input.
---
Short Chassis Design

The compact size of a short chassis design allows for greater flexibility in installation options compared to traditional designs.